Winter Off Season Returning March Party Packages
Bounce Houses, Combos, & OC Party Packages
Standard 11x11 or 13x13 Jumper / Wet or Dy Standard Combo / 30ft Obstacle Course
We offer multiple Pre-built Party Packages to help save on your party! Pick either a Bouncey House Jumper, Combo Bounce House w/Slide, or 30ft OC (Obstacle Course) Party Package
Party Packages include:
*3 6ft Rectangular Tables
*18 White Folding Chairs
*Choose from either a Small Snow Cone machine or a Cotton Candy machine, supply kit 40 servings included
Parties up to 6 hours, Fall/Winter Special Pricing! Sun sets 7pm! +20% up to 14 hours, or +40% all night
Upgrades at an additional cost:
*15x15 Bounce House Jumper
*Wrestling Ring Jumper
*Disney Princess Ultimate Combo Bounce House, Obstacles, Hoop, and Slide
*Large Snow Cone Machine
No current Parks Service Support, unable to service parks at this time
At parks 95% of the time you WILL need a generator. Some parks have outlets but the majority do not and often regular outlets are not allowed to be used for bounce houses due to the amount of power needed to run the bounce house. A small generator is $50 and will include gas for 5-6 hours for one blower. If your jumper needs two blowers or you're adding a concession, then you will need two generators or order one of our larger generators for $100.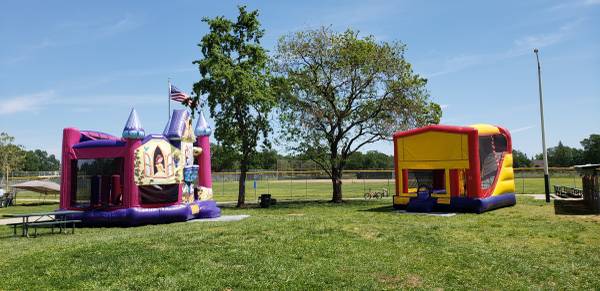 Please check with the park office on power requirements and if they require you to add a bounce house permit to your park reservation.