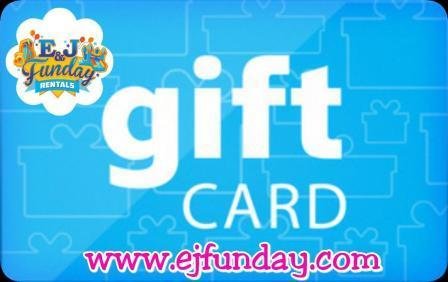 $400 E&J Funday Gift Card
E&J Funday Rentals Bounce House and Water Slide Rentals Gift Card!
Give the GIFT OF FUN! The Ultimate Party in a card and you choose how big that party can be!
Think of the last great party your kids, grand-kids, nieces, and nephews had that involved a bounce house or water slide. Now you can pack all of that fun into a card and voila! You have an awesome Grandma, Grandpa, Aunt, Uncle, Mom, Dad, or Family Friend that just packed a whole lotta fun in a card.