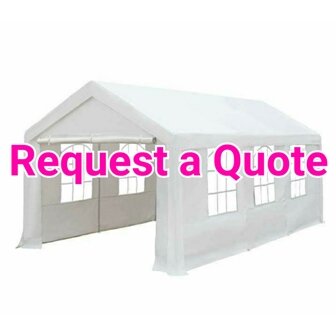 Request Quote for Canopy Tent
Request a Quote for a Tent Style Canopy
Tents will need to be reviewed for availability as often they are rented for overnight use, so aren't always available until later the next day.
Create a Quote by creating a mock order using this Request a Quote item.
On the payment screen click "Send Quote" and it's emailed to you.
Start by adding this item to your cart, then enter the City a Zip, then continue to the order info screen.
Please comment in the order notes which size tent you're interested in 10x20, 20x20, 30x20, 40x20 and if you'd like sides;left, right, back, and/or front.
We'll check availability and can add it to your quote if it's available.
You can add any other items to your quote request such as Tables, Chairs, and Heaters.
We carry 6ft rectangular tables, 5ft Rounds, White Plastic folding chairs (outdoor use, some marks and worn feet).