Dry Bounce House Jumpers with Slides
Jumpers Closed for Winter Off Season
Reservations Re-open in March



Dry Bounce Houses with Slides
Combo Bounce Houses, The Ultimate Jump Party, adding a Slide to the Fun!
Build your package and save through Add Ons when checking out!
Dry Combos Only, Wet +$20 more. Please see Wet Combos so we bring the correct items to set up a wet unit!
Parties up to 7 hours, Fall/Winter Special Pricing! Sun sets 5pm! +20% up to 14 hours, or +40% all night
The ultimate bounce houses for parties and events are Combo Units!
Dry Combos are a bounce house jumper slide combination. Choose from a variety of different Combo units to meet your needs and make your next party absolutely fun filled. We even have units with smaller footprints to fit smaller yards, big fun in a smaller package!

Parks!: No Park Service at this time
At parks 95% of the time you WILL need a generator. Some parks have outlets but the majority do not and often regular outlets are not allowed to be used for bounce houses due to the amount of power needed to run the bounce house. A small generator is $50 and will include gas for 5-6 hours for one blower. If your jumper needs two blowers or you're adding a concession, then you will need two generators or order one of our larger generators for $100.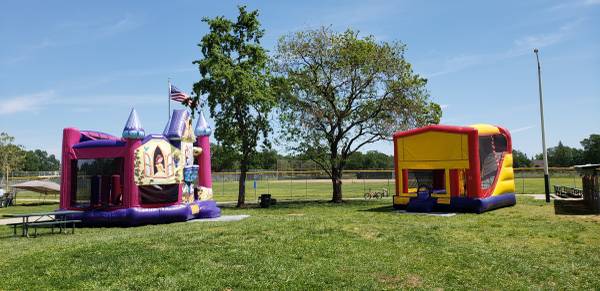 Please check with the park office on power requirements and if they require you to add a bounce house permit to your park reservation.