Obstacle Courses
Obstacle Courses!
Build your package and save through Add Ons when checking out!
Parties up to 7 hours, Fall/Winter Special Pricing! Sun sets 5pm! +20% up to 14 hours, or +40% all night
When a Bounce House just doesn't cut it.... It's time to upgrade the fun and add one of our 30ft Obstacle Courses!
These compact units are designed to fit right in your yard. They're a great addition at every event and family party. Open air design structures provides tons of fun along its path to bring joy to every kid. Archways welcome riders into to explore the fun, challenging riders to push through inflated obstacles, crawl-through tunnels, race up climbing walls and down slides.

Parks!:
At parks 95% of the time you WILL need a generator. Some parks have outlets but the majority do not and often regular outlets are not allowed to be used for bounce houses due to the amount of power needed to run the bounce house. A small generator is $50 and will include gas for 5-6 hours for one blower. If your jumper needs two blowers or you're adding a concession, then you will need two generators or order one of our larger generators for $100.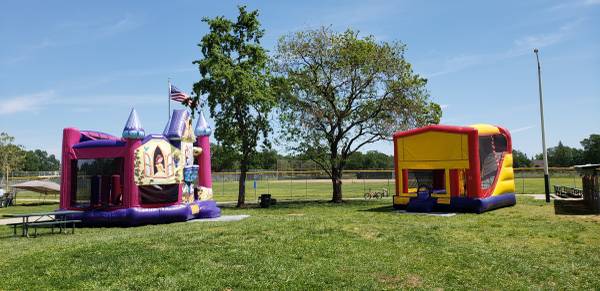 Please check with the park office on power requirements and if they require you to add a bounce house permit to your park reservation.